Termites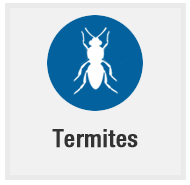 These nasty guys strike fear into the hearts of homeowner. Arizona is the home to four termite species, but the most prevalent is the desert subterranean termite.
Unlike some other pests, termites are active year-round. August, or fall, is their favorite time of year because the temperature is not too hot, nor too cold…..plus, more rain! This is when they will shoot up those exploratory mud tubes along the wall, in search of wood.
Before foundation is poured for homes in Arizona, the site will be treated with chemicals that kill termites. However, after 5 years, the treatment will begin to break down, and then is usually when you can expect termite trouble to start. The five year mark is when any homeowner should start to have annual inspections for termites. AZ Termite Pest Control Phoenix
Crumbling of drywall, small holes in wood, insect wings, sagging floors or doors, and thin mud tubes are telltale signs of termite infestations. The mud tubes are pale/tan in color and are often found around solid objects so they can reach a food source.
If you think your termite problem is something you can do yourself, it is NOT. An exterminating company will have the proper tools and chemicals to effectively treat any termite problem.
Termite technicians will drill into the ground, sidewalks, or patio around the home and then insert a liquid termicide. The holes are then refilled. If termites are located in the middle of the home, they can remove flooring and then drill into the slab to treat the infestation. AZ Termite Pest Control Phoenix
Contact Lady Bug Pest Control Specialists. We offer Free Home Inspection for Termites, Eco-Friendly Pest Control, Home Seal Service, Bed Bug Eco-Heat, and Rodent Control. We perform Complete Home Inspections. Lady Bug also will do a free termite inspection if you already are under contract with another company and take over your existing termite warranty policy. Please feel free to contact Lady Bug Pest Control Specialists to answer any of your pest control questions or for a FREE Inspection. 480-833-1111.

Free consultation