Not So Friendly Pests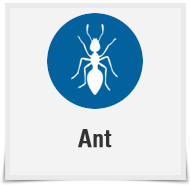 Giant Mosquitoes
Florida was first invaded recently by giant pythons, then giant snails….now it's giant mosquitoes! They are about five times the size of the mere mortal pests. These "new" mosquitoes are Florida natives and have actually always been around. They are known as the shaggy-legged gallinipper.
Why they seem so "new" is because there are just more of them. When there is a rainy spring, you will have more gallinippers! The females lay their eggs in shallow dirt divots that are likely to encounter flooding. When no rain happens, the eggs just wait it out until anther season.
These gallinippers are less nippy than many other species of mosquitoes and also aren't known to transmit West Nile or other diseases. Just a wear a small amount of insect repellent to keep them away!
Crazy Ants
Most ant species love nothing more than just to follow their leader. But a Crazy ant will run around frantically as if they are late for something. Hence, the name, Crazy Ant. Arizona Pest Control Phoenix
What is really crazy about these ants? Their sheer numbers! There can be tens of thousands of individual ants in some of the bigger colonies. They aren't entirely resistant to conventional insecticides, but their nests often so populous that it can overwhelm eradication efforts.
One thing about this any that will drive any homeowner crazy is their love for electronics. These tiny Caribbean invaders love nothing more than to set up shop inside electric housing and circuit boxes and chew through the wiring. They have been blamed for causing blackouts in Texas and other Southeastern and Gulf States! Arizona Pest Control Phoenix
Contact Lady Bug Pest Control Specialists. We offer Free Home Inspection for Termites, Eco-Friendly Pest Control, Home Seal Service, Bed Bug Eco-Heat, and Rodent Control. We perform Complete Home Inspections. Lady Bug also will do a free termite inspection if you already are under contract with another company and take over your existing termite warranty policy. Please feel free to contact Lady Bug Pest Control Specialists to answer any of your pest control questions or for a FREE Inspection. 480-833-1111.

free consultation