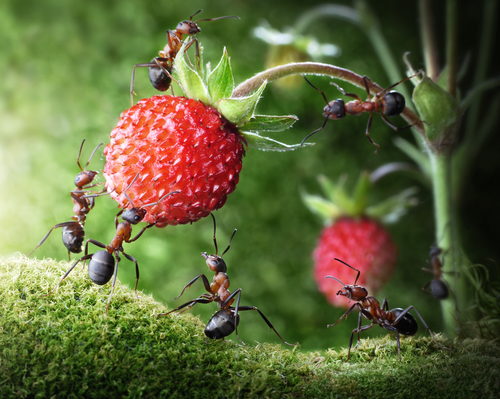 The Inspection
How do you go about eliminating carpenter ants? It is very important to be able to locate all of the nests inside and outside of this structure, so that each one can be treated as needed. You need to be there when the ants are active so you can follow them, and this will often mean inspecting for them in the evening or at night. With a few exceptions, carpenter ants are primarily nocturnal.

The inspection should include a discussion with the customer who may already know a lot of things about this problem that would be helpful. For example:
• Where have the ants been seen, and where are they most prevalent?
• Have you seen them outdoors and where?
• Do you know if any moisture problems exist within the structure, or have in the past?
• Where have you found any sawdust debris?
• Have you seen any of the winged swarmers?
Moisture problems are a big issue, and ants nesting indoors usually will do so around moisture. Some of the important places to check would be around plumbing, around drain gutters, poorly fitting siding outside, deteriorating areas of roofs, window framing, or crawl spaces. Of particular concern would be any place wood may contact the soil, such as decks, porch columns or supports, or exterior stairs.
Carpenter ants are opportunistic, so they also have been found nesting under insulation. This could be in the crawl space of the home, where thick insulation is stapled or wired up under the sub-flooring. One of the most common places we find colonies of the ants is under the roofing, in and around the layers of insulation.
Keeping in mind that carpenter ants love to trail along existing electrical wires, and may enter structures on these lines, so look for shrubs or tree branches touching the structure and recommend these be trimmed away. Inspect wires coming to the home and treat them in some manner to eliminate them as pathways. If ants are found within the structure there is an excellent possibility that they are moving from place to place within wall voids, and electric wires there are trails for them to move easily.
Once you have established where all the ants' colonies are located, including the most important one, the parent colony most likely found outdoors - you can set about on a control program. Carpenter ant control in using an Integrated Management approach, is the manipulation of the attractions present - sugar sources, trailing surfaces and openings to the structure, and nesting sites outdoors.
Once the main colony has been identified, a control program can be implemented.
Carpenter Ant Inspections in Mesa, AZ
Contact Lady Bug Pest Control Specialists for a Free Home Estimate for Termites, Eco-Friendly Pest Control, Home Seal Service, Bed Bug Eco-Heat, and Rodent Control. We perform Complete Home Inspections at no charge. Please feel free to contact Lady Bug Pest Control Specialists to answer any of your pest control questions or for a FREE Inspection. 480-833-1111.

Free Home Inspections