Stinging Insects 101
How to identify the pest, the nest and the threat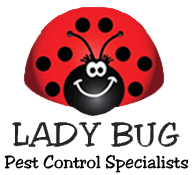 Stinging insects like wasps, yellowjackets, hornets and bees are common in the summer and their sting is a painful nuisance.

According to the National Pest Management Association, stinging insects send more than half a million people to the emergency room every year!

If you have an allergy, you are more at risk although anyone is it risk when there is a large number of stinging insects stinging at once.
Protecting yourself is relatively simple.

Make your property free from hives and nests.

On a routine basis, walk around the exterior of your home to make sure it is free from hives and nests.

Pay close attention to overhangs, eaves, porches and decks.

Inspect shrubs, trees, sheds and any other structure on the property.

If you find a nest, don't attempt to remove it yourself.

A colony can be very defensive and attack in large numbers.

Contact a licensed pest control company that can help to relocate or remove the hive.
There are some stinging insects that a more serious threat then others.

To help determine if your family is at risk, you need to identify the insect, especially the wasps and yellowjackets.

Any trained professional can help you identify a species and what threats it poses. Fountain Hills Pest Control Around Me AZ
Bumble Bee
<!--[if !supportLists]-->·

<!--[endif]-->

This pest is between ¼ to 1 inch in size.

It has black and yellow markings and a fuzzy appearance.
<!--[if !supportLists]-->·

<!--[endif]-->

Bumble bees build their nests out of pollen clumps, usually in the ground or a thick and dense grass clump.

They love abandoned mouse nests.
<!--[if !supportLists]-->·

<!--[endif]-->

Bumble Bees are a beneficial insect.

They pollinate flowers!

They do sting though.

If a nest is located near a structure, controlling it is very necessary. Fountain Hills Pest Control Around Me AZ
Contact Lady Bug Pest Control Specialists. We offer Free Home Inspection for Termites, Eco-Friendly Pest Control, Home Seal Service, Bed Bug Eco-Heat, and Rodent Control. We perform Complete Home Inspections. Lady Bug also will do a free termite inspection if you already are under contract with another company and take over your existing termite warranty policy. Please feel free to contact Lady Bug Pest Control Specialists to answer any of your pest control questions or for a FREE Inspection. 480-833-1111.

free consultation