Important Leaf Damaging Pests
There are tiny, yellow insects that can feed on either the foliage or the roots of grapes. They start as tiny nymphs on the roots, moving to the foliage in the spring, and being transported to nearby plants with wind or by crawling across the soil. The vast majority of them will be wingless insects, but when winged forms are produced they will be a bright yellow color with their well developed wings held flat over the top of the abdomen.
A second species of growing importance is called the Oak Leaf Phylloxera, believed to have been imported from Europe in the 1960's. It feeds on several species of oak trees found in the Pacific Northwest and western Canada. Like the grape feeders it is a tiny yellow insect, less than 1/16th inch long, and having several generations each year. When populations are heavy the feeding causes severe yellowing and browning of the leaves, and potentially complete defoliation of the tree by late summer. If the tree is heavily defoliated it may be killed.
A third important group is the Pecan Phylloxera, consisting of several species. These also are tiny yellow insects, but as they feed on stems or leaves they cause the formation of a small gall that encloses and protects the insects. Heavy infestations can lead to a serious decline in the health of the tree, including complete loss of a season's crop and potentially death of the tree.
There are many predators of phylloxera, in the usual assortment of lacewings and ladybird beetles, and often these are capable of keeping the pest population down to a tolerable level. If your inspection of the infested plant finds a great many predators present, the best course for control may be to allow this natural control to take place, and avoid the application of an insecticide.
If you have concerns and want a Free Home Inspection contact Lady Bug Pest Control Specialists for a Free Home Inspection for Termites, Eco-Friendly Pest Control, Home Seal Service, Bed Bug Eco-Heat, and Rodent Control. We perform Complete Home Inspections at no charge. Please feel free to contact Lady Bug Pest Control Specialists to answer any questions or for a FREE Inspection. 480-833-1111.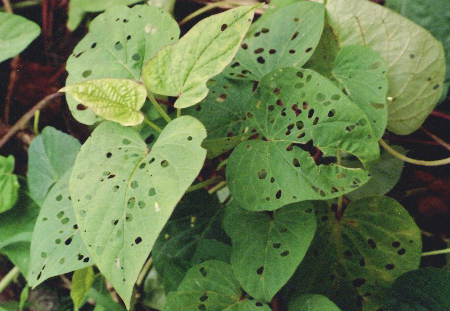 Lady Bug Locations: Lady Bug Eco-Friendly Pest Control provides service Valley Wide including Mesa, Tempe, Scottsdale, Paradise Valley, Phoenix, Cave Creek, Care Free, Fountain Hills, Gilbert, Chandler, Queen Creek, San Tan, Sun City, Peoria, Buckeye, Avondale, Good Year, Glendale, Surprise, Apache Junction, Gold Canyon, Anthem, Ahwatukee, and El Mirage.

Free Home Inspections