It is not our goal to kill all living creatures in someone's garden at Lady Bug Eco-Friendly Pest Control, and when you kill the beneficial bugs and other organisms it will be at the expense of a healthy garden. We need to act as advisors for our customers, and educate them on the pests and when there is a need to undertake a control program. Quite often we may identify the presence of many predatory insects, and be able to avoid spraying a poison, knowing that the beneficial insects are taking care of the problem.
So, let's look at a few of the common predatory and parasitic insects at this time. Tops among these may be the familiar lady bird beetles, or "lady bugs", but to most homeowners there is only one kind – red with black spots. In reality there are many species with many co
lor forms, including red with no spots, black with red spots, white or tan with black spots, tiny gray and black, and even some with stripes instead of spots. Even more mysterious to most homeowners are the larvae of ladybugs, and commonly a customer may describe to you these little "miniature alligators" they find on their plants, trunks of trees, or the siding on the house. These gray and red larvae are very mobile, and when present in large numbers will rapidly eliminate big populations of aphids. There are a few very odd looking lady bug larvae as well, including one that strongly resemble the white, waxy look of mealybugs, and which is then able to blend into a population of mealybugs as it feeds upon them. Appropriately they are called "mealybug destroyers".
As beetles the lady bugs undergo complete metamorphosis, and when they transform to the pupa stage this pupa may be found attached to many surfaces near the plants they were active in as larvae. Again, it is common for people to find them attached to
the exterior walls of their home, and thinking it must be a dangerous pest problem they scrape and brush these valuable insects away, killing them unnecessarily and unwittingly protecting the aphid populations in their landscape.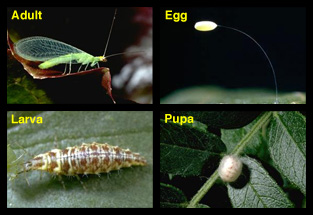 A second valuable predator of aphids is the lacewing, and the most common kind is called a green lacewing, due to its lime-green color and the long wings with their network of veins. The adult lacewing may feed on some aphids, but the majority of the carnage is done by the lacewing larva. This predator is so adept at consuming large numbers of aphids that it is nick-named an "aphid lion". These insects are in the insect Order Neuroptera, along with another predatory insect called a Snake Fly. The lacewing larva is an interesting character up close. It is equipped with a pair of incredible (for its size) sickle-shaped jaws that it uses to snatch an aphid off the surface, pierce it and lift it in the air, and then drain the aphid of its body fluids. Once emptied the aphid carcass is tossed aside and another aphid is chosen, and in this manner the aphid lion may go through a large number of aphids very quickly. It would be the rare homeowner, indeed, who would recognize the lacewing larva for what it is – a highly valuable predator that should be preserved in the garden. This is why it is so important for the licensed pest management professional to strive to learn and to recognize the benef
icial insects. At Lady Bug you can count on us to do that!
If you have concerns and want a Free Home Inspection contact Lady Bug Pest Control Specialists for a Free Home Inspection for Termites, Eco-Friendly Pest Control, Home Seal Service, Bed Bug Eco-Heat, and Rodent Control. We perform Complete Home Inspections at no charge. Please feel free to contact Lady Bug Pest Control Specialists to answer any questions or for a FREE Inspection. 480-833-1111.
Lady Bug Locations: Lady Bug Eco-Friendly Pest Control provides service Valley Wide including Mesa, Tempe, Scottsdale, Paradise Valley, Phoenix, Cave Creek, Care Free, Fountain Hills, Gilbert, Chandler, Queen Creek, San Tan, Sun City, Peoria, Buckeye, Avondale, Good Year, Glendale, Surprise, Apache Junction, Gold Canyon, Anthem, Ahwatukee, and El Mirage.

Free Home Inspection for Termites

Free Home Inspection for Termites