Identifying A Bark Scorpion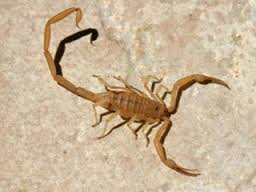 There are roughly 30 different species of scorpions in the Phoenix Valley......the most venomous however, is the Bark Scorpion.
When it comes to the way the Bark Scorpion "looks"……here are a few things to notice.
Their body is much more slender with a thinner tail and pincers than other scorpion species.
Their color is tan; but can also range from a yellowish brown without any markings to stripes running from head to tail. Right after molting has taken place, a Bark Scorpion will be dark yellow with an almost orange tan color.
They will have a mark on the front of the head above the eyes. It will be a dark triangle.
A mature Bark Scorpion measures 2-3 inches long from head to stinger. Mesa AZ Scorpion Pest Control
Scorpions in Arizona will live all year long and can survive the coldest temperatures that the desert can experience. Bark Scorpions have no problem co-existing along with other scorpions. In the winter time, Bark Scorpions will even gather with other scorpions in large groups to nest.
Scientists can identify species of insects very easily. And truly, the best way to identify a Bark Scorpion is by watching its behavior. The Bark Scorpion will lay its tail down, parallel to the surface it is on. The tail will still be curled up, watching and waiting for prey to come along. Other scorpion species keep their tails up and above their backs while they rest.
Scorpions can climb walls, bushes, trees, stucco, siding, block walls, interior walls……..you name it. They will also position themselves upside down.
Bark Scorpions (actually most species in the scorpion family) are nocturnal. They are attracted to moist areas that are also cool and that have good air flow. Bark Scorpions actually love the cracks of block wall fences and inside homes. Mesa AZ Scorpion Pest Control
Contact Lady Bug Pest Control Specialists. We offer Free Home Inspection for Termites, Eco-Friendly Pest Control, Home Seal Service, Bed Bug Eco-Heat, and Rodent Control. We perform Complete Home Inspections. Lady Bug also will do a free termite inspection if you already are under contract with another company and take over your existing termite warranty policy. Please feel free to contact Lady Bug Pest Control Specialists to answer any of your pest control questions or for a FREE Inspection. 480-833-1111.

Free consultation