Most Aphids Eat Leaves
Most of the aphids will be those that feed on the leaves, stems, or buds of plants, and are not hidden within protective wax, galls, or rolled leaves. This includes a great many different species. They are much more susceptible to other insect predators, and may be rapidly washed off the plant with a spray of water, for plants such as roses. These aphids run the spectrum of colors, from yellow to green to pink to brown or black. They are often given names based upon an important host plant, but most are not restricted to that particular plant, and many feed on a wide variety of kinds of landscape trees and shrubs.
For example, the Green Peach Aphid also feeds on plum, cherry, citrus, cabbage, tobacco, potato, lettuce, beets, roses, and dandelions. It is a serious agricultural pest and has been identified as the aphid feeding on hundreds of different kinds of plants in over 40 plant families.
One important aspect of an aphid's life cycle is their habit of depositing eggs on the stems and bark of trees. It can be a very effective means for killing many of them with the use of a specific type of oil applications directly to the trees and leaves. The oil is considered a non-toxic approach to pest management, since its actual effect is to physically smother the insect or the egg, coating it so that oxygen cannot get to that insect.
This also is typically considered a very "green" approach to aphid control as it is done during the winter when beneficial insects will not be present, and leaves no toxic residues that could affect other non-target animals.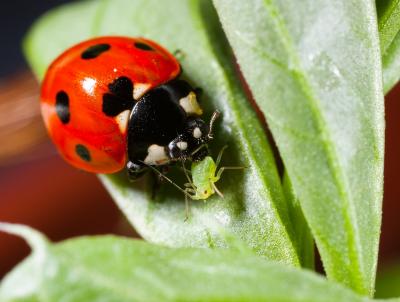 Two other natural approaches to chemical management of aphids include botanical insecticides, such as pyrethrum or Neem Oil, both of which will kill aphids on contact but leave little to no residual on the plant. Another is an insecticidal "soap". Exactly how soaps affect an insect is not well understood, and these materials are not specific to pest insects, however they can kill any other soft-bodied insects present when the spray is applied. The advantage is that there is no residual activity by the insecticidal soap, and insects must actually be sprayed with the material to be affected, and predators or parasites walking on treated surfaces after the fact will generally not be harmed.
Limitations to the soap, oils, and many plant-derived insecticides include the need to contact the aphids directly. Thus, aphids that are protected within galls, distorted leaves, or their own masses of wax are likely to survive the treatment. A very thorough coverage of the infested plant parts is needed, and since aphids often feed on the undersides of leaves this also makes complete coverage more difficult.
If you have concerns and want a Free Home Inspection contact Lady Bug Pest Control Specialists for a Free Home Inspection for Termites, Eco-Friendly Pest Control, Home Seal Service, Bed Bug Eco-Heat, and Rodent Control. We perform Complete Home Inspections at no charge. Please feel free to contact Lady Bug Pest Control Specialists to answer any questions or for a FREE Inspection. 480-833-1111.
Lady Bug Locations: Lady Bug Eco-Friendly Pest Control provides service Valley Wide including Mesa, Tempe, Scottsdale, Paradise Valley, Phoenix, Cave Creek, Care Free, Fountain Hills, Gilbert, Chandler, Queen Creek, San Tan, Sun City, Peoria, Buckeye, Avondale, Good Year, Glendale, Surprise, Apache Junction, Gold Canyon, Anthem, Ahwatukee, and El Mirage.

Free Home Seal Estimates