Getting Rid of Mice in the House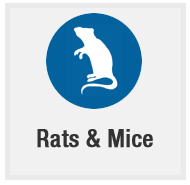 I'm not sure it gets any worse than opening up your kitchen cabinet, only to see something scurry across the back on of the cabinet. Nothing will make a woman scream more! So if you have a mouse problem, take a look at some of these suggestions!
There are 3 very simple ways to go about dealing with mice: poison, mousetraps, ultrasonic devices, or a cat.
The first way, mouse poison. There are not poisons on the market that can help destroy mice to the seventh generation. Before using any poison, make sure to read labels and consult a professional. Poisons should not be used around pets, or children.
Mousetraps are another option to consider. To prepare mousetraps, most will require putting a piece of bait on the trap and waiting for it to snap. In most cases, the mouse will be killed. There are traps out here that do "trap", instead of kill. Whatever method you try, make sure to check the traps often. Mice are sneaky creatures and have been known to be able to steal the bait----without getting caught! Mouse in my House Mesa AZ
The third successful way to get rid of mice……ultrasonic devices! All you have to do is purchase the device, power it on, and watch the little guys pack their suitcases.
Lastly, the proven and most CLASSIC way……invest in a cat! Mice do not like cats……and do not like the smell of cats! Not to long after you bring the cat home, you will notice your mouse problem start to disappear. If the mice can't get away quick enough, don't worry……the cat will hunt them down, catch them, and possibly bring you their catch! Mouse in my House Mesa AZ
Contact Lady Bug Pest Control Specialists. We offer Free Home Inspection for Termites, Eco-Friendly Pest Control, Home Seal Service, Bed Bug Eco-Heat, and Rodent Control. We perform Complete Home Inspections. Lady Bug also will do a free termite inspection if you already are under contract with another company and take over your existing termite warranty policy. Please feel free to contact Lady Bug Pest Control Specialists to answer any of your pest control questions or for a FREE Inspection. 480-833-1111.

Free consultation