Scorpions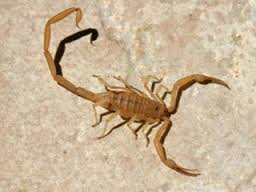 If you are in the Phoenix area, or surrounding areas, when you see a scorpion, you might just assume that it is an Arizona Bark Scorpion. That is not necessarily the case.
Arizona is home to all kinds of species of scorpions. All scorpions do have venom that they will use to capture their prey, but not all venom is harmful to humans. Arizona does not have the largest scorpions no the deadliest ones in the world—but there is a scorpion with potent venom; the Arizona Bark Scorpion.
The sting from a Arizona Bark Scorpion can either be annoying….or extremely painful with lasting effects. Dying from a scorpion sting is very rare; if you are prone to allergic reactions to stings, have an undeveloped or compromised immune system—you may have a strong reaction to a scorpion sting.
But it's not just humans. Small pets as well can have an adverse reaction. Pest Control Company Phoenix AZ
The Sonoran Desert is huge, covering an area of about 100,000 miles. This desert makes its way even into southeastern California, Baja California/Sur, northwestern Mexico, Hermosillo and Puerto Penasco, and a great big portion of the southern half of Arizona. That includes Tucson, Phoenix, and Yuma.
The Arizona Bark Scorpion, or it's scientific term; Centuroides sculpturatus, is easy to distinguish from all other scorpions. It has a long, slender hands and fingers, and a long skinny tail. In the dessert, they are typically a tan-yellow color, possibly orange. In the higher elevations they might have stripes. Pest Control Company Phoenix AZ
Contact Lady Bug Pest Control Specialists. We offer Free Home Inspection for Termites, Eco-Friendly Pest Control, Home Seal Service, Bed Bug Eco-Heat, and Rodent Control. We perform Complete Home Inspections. Lady Bug also will do a free termite inspection if you already are under contract with another company and take over your existing termite warranty policy. Please feel free to contact Lady Bug Pest Control Specialists to answer any of your pest control questions or for a FREE Inspection. 480-833-1111.

Free consultation