15 Minute Pest Control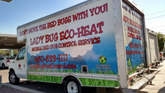 Clean Up Your Kitchen
Plan to set aside 15 minutes of every single day to wipe down your countertops. Vinegar is a great chemical to use! It will remove odor trails that are left behind keeping the foraging insects like ants, away! If you have dirty dishes, put them in the dishwasher. Keep the crumbs off the floor—sweep! If you have spills, don't leave them. Mop them up or wipe them away. Keep the garbage empty or at least not overflowing. On grocery day, clean out the fridge and keep anything that comes in plastic, in sealed glass or plastic jars. This is particularly important with grains, rice, pet food and nuts.
What Will This Stop?
Pests that come inside, looking for an easy meal. This includes roaches, ants, mice, wasps, and even spiders. Some of these insects come inside looking for their meals…..the insects that are already inside! Phoenix AZ Pest Control Company Near Me
Seal Up Entry Points
The TINIEST hole is perfect for insects and mice. They are looking for a warm, cozy place. A tube of low-VOC silicone caulk, which is readily available at any hardware store, can be your best friend in helping you to seal up these holes.
Seal around your dryer vent, window, and door frames. Any place that has pipes entering or leaving he home (cable wire) needs to be sealed up! Stuff steel wool into larger holes or cover them with wire mesh before you seal it up.
The bonus to taking the 15 minutes to seal up these entry points? You also seal up tiny air leaks that allow precious heat or cool to escape. Phoenix AZ Pest Control Company Near Me
Contact Lady Bug Pest Control Specialists. We offer Free Home Inspection for Termites, Eco-Friendly Pest Control, Home Seal Service, Bed Bug Eco-Heat, and Rodent Control. We perform Complete Home Inspections. Lady Bug also will do a free termite inspection if you already are under contract with another company and take over your existing termite warranty policy. Please feel free to contact Lady Bug Pest Control Specialists to answer any of your pest control questions or for a FREE Inspection. 480-833-1111.

Free consultation