Termite Problems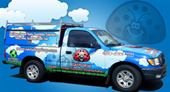 Pests are sneaky. Mice are known to squeeze through any crack to get into a pantry item and cockroaches can sneak through vents and spread diseases. Spiders invade and leave webs in corners of rooms and termites, well they are the sneakiest creatures of all. All the pests mentioned above leave signs of their presence, but termites often leave no visible sign. Termites can go for years or even decades, eating away at the wood of a home, undetected. The thing is, there are signs they leave behind! You just have to know what you are looking for and where to look!
As a homeowner, you have to know the signs that show a termite infestation. It can save you hundreds or thousands in costly repairs down the road. In the United States, termites cost owners over $5 Billion every year. This is more than all natural disasters, combined! Termites, if left undetected, can eat away at the wood of a home, 24 hours a day, 365 days a year! Never sleeping or taking a break! This infestation over time can lead to bulging walls and floors, doors and windows that wont open or close, and wood that becomes to compromised to walk on. Here are some early signs you can look for. Phoenix Pest Control Service AZ

<!--[if !supportLists]-->1. <!--[endif]--> If you have rotting stumps or other decaying wood outside your house, look for termites. If you break off a part of the stump and see a mass of little white things that look like ants, you are seeing a termite worker! If you find them nearby your home, there is a great chance they have found their way inside your walls. They can travel as far as a length of a football field in search for food.
<!--[if !supportLists]-->2. <!--[endif]--> Look for damage outside the home. If you have places where the wood of your home touches the soil, look for evidence of termite activity. If the wood looks like it has been attacked by carving knives and is rough to the touch, termites have probably been to work on that area. Phoenix Pest Control Service AZ
Contact Lady Bug Pest Control Specialists. We offer Free Home Inspection for Termites, Eco-Friendly Pest Control, Home Seal Service, Bed Bug Eco-Heat, and Rodent Control. We perform Complete Home Inspections. Lady Bug also will do a free termite inspection if you already are under contract with another company and take over your existing termite warranty policy. Please feel free to contact Lady Bug Pest Control Specialists to answer any of your pest control questions or for a FREE Inspection. 480-833-1111.
<!--[if !supportLineBreakNewLine]-->
<!--[endif]-->

free consultation