PHYSICAL SIGNS YOU MAY HAVE BED BUGS
FECAL STAINS (POOP)
This sign of bed bugs is fecal (poop) droppings or stains. The larger the infestation, the greater amount of these will be found. These stains appear to be minute "ink dots", (like from a black marker pen), can be found just about anywhere and are often mistaken for mold. Some materials are "impervious to moisture" and the dropping may "bead up" on the surface.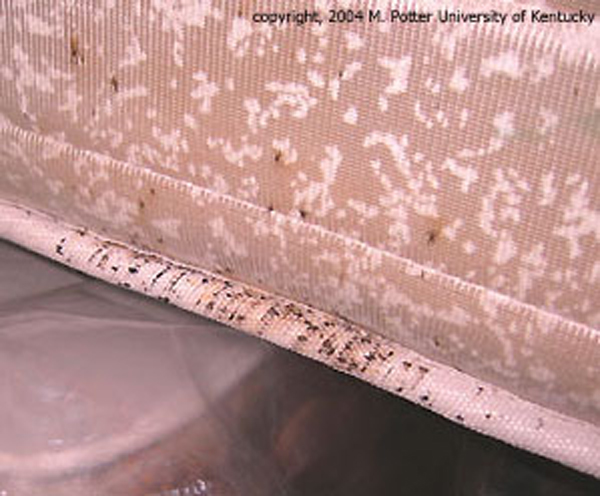 MOLTED BED BUG SKINS (CASTINGS)
These are when the bed bug grows out of its skin and leaves the old one behind. They are normally a paper thin opaque duplication of the bed bug. These can be mistaken for "crumbs" of food if you eat in bed. Depending on how long you've had an infestation, you may find different "sizes" as each stage of growth to maturity is a little larger than the last.
BLOOD SPOTS
Outside of bite marks people may find blood spots. These spots may be recognized as rusty spots on bedclothes, sheets, furniture and surrounding walls.
PECULIAR ODOR
The next sign is a peculiar "odor" that can be from defecated blood and oxidized iron in blood, a sort of rusty smell. There are actually many bed bug infestation odors (and have been said to be like coriander, cilantro, citronella, and/or musty raspberries). Some of the odors are usually associated with higher numbers of bed bugs and longer infestations, and like any of the normal human smells and scents, if you reside in the room on a regular basis you may be "use to" the smell.
If you find ANY of these signs, or suspect bed bugs, call a professional pest control company right away. The skin lesions produced by the bite of a bed bug can resemble those caused by many other kinds of blood feeding insects, such as mosquitoes and fleas. Therefore bed bug bites, can rarely be identified by the appearance of the bites alone and the culprit must be found to be positively bed bugs.
If you have concerns and want a Free Bed Bug Inspection contact: Lady Bug Pest Control Specialists. We offer Free Home Inspection for Termites, Eco-Friendly Pest Control, Home Seal Service, Bed Bug Eco-Heat, and Rodent Control. We perform Complete Home Inspections at no charge. Please feel free to contact Lady Bug Pest Control Specialists to answer any questions or for a FREE Inspection. 480-833-1111.
Lady Bug Locations: Lady Bug Eco-Friendly Pest Control provides service Valley Wide including Mesa, Tempe, Scottsdale, Paradise Valley, Phoenix, Cave Creek, Care Free, Fountain Hills, Gilbert, Chandler, Queen Creek, San Tan, Sun City, Peoria, Buckeye, Avondale, Good Year, Glendale, Surprise, Apache Junction, Gold Canyon, Anthem, Ahwatukee, and El Mirage.

Free Bed Bug Inspections