What is that sticky stuff on my car? Bugs!
These insects may be second in importance to the aphids, and they look very much like a tiny cicada. Psyllids are a serious problem on many kinds of ornamental and food producing plants and trees, and new kinds enter the U.S. on a regular basis. For example, in 1998 the Asian Citrus Psyllid was discovered in citrus groves in Florida. Its feeding causes a disruption of normal growth of new leaves and shoots. Even more important is that the Asian Citrus Psyllid is a known vector of Citrus Greening, a potentially devastating bacterial disease of citrus that threatens to annihilate this industry in Florida. The psyllid by 2009 was also established in Texas and Louisiana, in Puerto Rico and other Caribbean islands, and in Mexico, including Tijuana, which gives rise to the fear that it could quickly establish itself in the vast citrus industry in southern California as well.
Another noticeable psyllid species entered California in the 1990's, and began showing up on eucalyptus trees. This species is the Red Gum Lerp Psyllid, and that unusual word "lerp" refers to the odd crystalline caps created by the nymphs as they feed on the leaves of the trees. In heavy infestations these lerps virtually cover the leaves on some branches, and as the nymph passes onto the adult stage the sugary caps fall off the leaves and onto surfaces below.
If the trees are around parking lots this creates a terrible mess on cars and the asphalt, and as people walk over the layers of lerps they stick to their shoes and are carried into the buildings, further adding to the charm of this psyllid. With several hundred different species of psyllids known to feed on eucalyptus trees in their native country of Australia, it is highly likely that many more kinds will find their way to North America.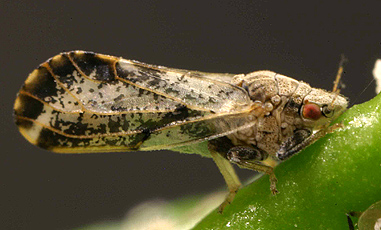 There is good news and bad news on this issue. The good news, perhaps, is that the psyllids do very little actual damage to the trees, and their problem is one of nuisance only due to their sticky lerps. The bad news is that the eucalyptus is a highly invasive "weed", if we accept one definition of weeds, and in many areas of California eucalyptus trees grow in huge, dense stands where virtually nothing else can grow beneath them.
If you have concerns and want a Free Home Inspection contact Lady Bug Pest Control Specialists for a Free Home Inspection for Termites, Eco-Friendly Pest Control, Home Seal Service, Bed Bug Eco-Heat, and Rodent Control. We perform Complete Home Inspections at no charge. Please feel free to contact Lady Bug Pest Control Specialists to answer any questions or for a FREE Inspection. 480-833-1111.
Lady Bug Locations: Lady Bug Eco-Friendly Pest Control provides service Valley Wide including Mesa, Tempe, Scottsdale, Paradise Valley, Phoenix, Cave Creek, Care Free, Fountain Hills, Gilbert, Chandler, Queen Creek, San Tan, Sun City, Peoria, Buckeye, Avondale, Good Year, Glendale, Surprise, Apache Junction, Gold Canyon, Anthem, Ahwatukee, and El Mirage.

Free Termite Inspections