All You Need To Know About Scorpions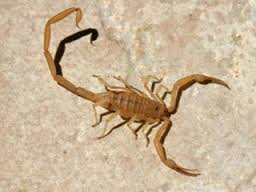 Without a doubt, Arizona is a place where you will find scorpions. There are even people out there who don't want to avoid scorpions, instead, they like these creepy things and even collect them; paperweights, key chains, lollipops, and even bookmarks.
But if you are like me, I don't want to see them and really want them as far away from me as possible. Learning about scorpions is really the best way to be prepared when you happen to come in contact with one. You need to know what they are, what they look like, how they act, and where they are most likely found. Knowing these things can make you feel more comfortable if you live in a desert environment, the home for a scorpion.
Scorpions have four pairs of legs and pincers (kind of like a little lobster claw). Scorpions can people all different colors and sizes, but most of the ones that are located in Arizona are usually a pale gold or tan color. In parts of the world, scorpions can be six inches or longer, but the adult scorpions in the Phoenix area are usually less than 3 inches long. Scorpions have a venom bulb at the end of their long tail, and it is called the telson.
All together there are roughly 90 different species of scorpions in the United States alone, and around 1500 species worldwide. Arizona alone has more than 40 different species of scorpions. This number constantly changes because new species are discovered, the classification of them changes, and then some species become extinct. Scorpion Exterminator Phoenix AZ
Scorpions love to hide under rocks or debris, and they live in crawl spaces. They are nocturnal; active and feed at night. The scorpions found in Arizona usually feast on spiders, insects, and each other (if they are hungry enough).
Scorpions will hide during the day, so make sure to always check your shoes and clothes before putting them on if you happen to live in an area that a has a decent scorpion population. If there is construction close to you, chances are you will most likely see scorpions inside the home because their outdoor habitat has been disrupted. Scorpion Exterminator Phoenix AZ
Contact Lady Bug Pest Control Specialists. We offer Free Home Inspection for Termites, Eco-Friendly Pest Control, Home Seal Service, Bed Bug Eco-Heat, and Rodent Control. We perform Complete Home Inspections. Lady Bug also will do a free termite inspection if you already are under contract with another company and take over your existing termite warranty policy. Please feel free to contact Lady Bug Pest Control Specialists to answer any of your pest control questions or for a FREE Inspection. 480-833-1111.

Free consultation