Spruce Gall Aphid Damages Branches
The most damaging kinds of aphids may be the species that attack trees, such as the Spruce Gall Aphid. The feeding of these aphids on the developing twigs of spruce trees causes the formation of large galls or cone-like deformations that eventually kill that twig. Repeated and continuous feeding can eventually weaken entire trees, causing them to be more susceptible to other pests and problems.
In the eastern U.S. The Eastern Spruce Gall Aphid is a major problem, and it is an imported pest that is native to Europe. Throughout much of the country we can find the Cooley Spruce Gall Aphid, which is native to North America. The Spruce Gall Aphids also may feed on fir trees that are in the area, but do not seem to cause the damaging galls on fir.
Control of many other kinds of gall aphids is normally not needed, but because of the potential harm the spruce gall aphids can cause some effort at management is appropriate. An application of a contact insecticide to the new buds of the spruce can kill the exposed aphids as they first begin to feed, and before a gall has begun to form. Likewise, a contact insecticide applied in early fall may also kill the exposed nymphs prior to going into their winter hibernation on the tree.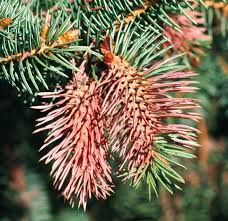 The other kinds of gall-making aphids are much less of a concern, and generally don't require any management. These cause aesthetic damage only, and would not warrant the application of an insecticide that may not do any good anyhow. Some kinds, such as the Poplar Gall Aphid, feed on the stem or petiole of a leaf. Their feeding and their saliva cause a reaction in the plant that results in an enormous swelling of the plant tissues and the formation of a large, hollow gall. The aphids will be living within this gall, which is of no consequence to the health of the tree.
Other kinds feed on the leaves, causing the leaf to distort and roll over to form a pocket. Eventually, in mid to late summer, the aphids may finally cause the death of that leaf and the leaf falls from the tree, causing worry for the owner of the tree. But, infestations would rarely be so severe that noticeable defoliation is occurring, and simply allowing it to run its course is the recommended action.
If you have concerns and want a Free Home Inspection contact Lady Bug Pest Control Specialists for a Free Home Inspection for Termites, Eco-Friendly Pest Control, Home Seal Service, Bed Bug Eco-Heat, and Rodent Control. We perform Complete Home Inspections at no charge. Please feel free to contact Lady Bug Pest Control Specialists to answer any questions or for a FREE Inspection. 480-833-1111.
Lady Bug Locations: Lady Bug Eco-Friendly Pest Control provides service Valley Wide including Mesa, Tempe, Scottsdale, Paradise Valley, Phoenix, Cave Creek, Care Free, Fountain Hills, Gilbert, Chandler, Queen Creek, San Tan, Sun City, Peoria, Buckeye, Avondale, Good Year, Glendale, Surprise, Apache Junction, Gold Canyon, Anthem, Ahwatukee, and El Mirage.

General Questions