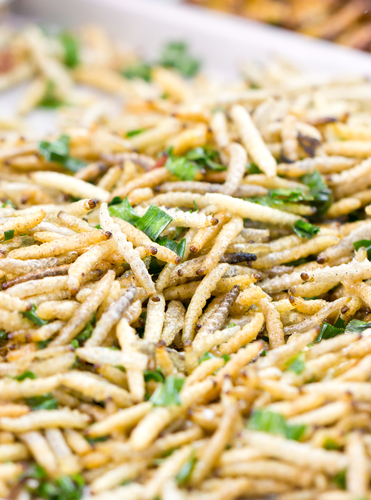 The Yellow Mealworm is a unique in that it almost always is a scavenger found in old stale or spoiled food where there is a high moisture content. A good example would be a sack of chicken mash that had become wet on the bottom because someone had hosed down the cement floor where it had been stored. All in all this is not a particularly important pest of stored food materials, but it serves as a good example where knowing what it is by proper identification and what it does by educating yourself on its biology will help you to eliminate it when it is found. Even though it is more likely to be in spoiled, out of condition foods, on occasion it may also attack certain fresh foods. These include flour, grain, meal, bran, cereals, meat scraps, feathers, mill sweepings, corn meal, corn starch, macaroni, potatoes, cake mixes, and bread.
The adult beetle is about 1/2 inch long and is a somewhat dull black to dark brown in color. It is a strong flier. Their common name of Yellow Mealworm is derived from the color of the larva, which is a shiny honey yellow. Yellow Mealworms pass the winter in the larval stage and pupate in the spring. Adults emerge later in the spring and live two to three months. The females lay between 200 to 500 eggs on the surface of the foodstuffs they infest. Eggs may be laid singly or in clusters. Egg-laying may continue over a period of three weeks to over three months. The eggs hatch in about two weeks. The larval period is long and highly variable, ranging from three months to two years depending on environmental conditions that include the temperature, moisture, and nutritional value of the foods they infest. The pupa stage lasts only about one month. Altogether the life cycle from egg to adult averages ten months to over two years, and perhaps this long life cycle is one factor that limits their occurrence in stored foods.
Normally, you will rarely run across an infestation of Yellow Mealworms. However, the larvae of the Yellow Mealworm many times in a summer may be used if you are a fisherman. Trout fishermen know them as "Golden Grubs" and they are one of the best trout fish baits. Some people raise meal worms commercially and sell the larvae as fish bait. There is an ongoing craze over eating insects, and one of the insects you often find on the "menu" will be dried mealworms.
There are Yellow Mealworm "growers". The factories consist of a square block of structures filled with "dresser-like" furniture. Each dresser cupboard had a number of drawers and each drawer holds hundreds of Yellow Mealworm larvae in one instar stage or another, squirming around in a mash-like medium. Imagine a whole city block of structures just dedicated to raising Yellow Mealworms for the trout fishing industry. At a certain instar stage they are harvested and shipped in small round cardboard containers to bait and tackle shops all over the country.

Literally millions of Yellow Mealworm larvae are shipped out every summer. They are also sold as food for pet birds, fish and other animals raised in zoos. Pet stores sell them to children to feed to their pet gerbils, hamsters, or lizards and frogs. A great number are used in biological research laboratories where studies are carried out on the genetic principles and physiology of insects. These larvae are so easily raised in captivity and live for so long as the larva that they are ideal candidates for these uses.
At Lady Bug use a variety of environmentally responsible products to control pest activity. The ECO line of products we use are all EPA approved and are made from clove oil, guava fruit, rosemary and other organic products and naturally occurring materials. They are very effective against pests when injected into the cracks and crevices at the source of where pests live and breed, yet it is inaccessible to people and pets.
The Yellow Mealworm Mesa, AZ
Contact Lady Bug Pest Control Specialists for a Free Home Inspection for Termites, Eco-Friendly Pest Control, Home Seal Service, Bed Bug Eco-Heat, and Rodent Control. We perform Complete Home Inspections at no charge. Please feel free to contact Lady Bug Pest Control Specialists to answer any questions or for a FREE Inspection. 480-833-1111.

Free Home Inspections

Free Home Inspections