Termite-damaged wood is usually hollowed out along the grain, with bits of dried mud or soil lining the feeding galleries. Wood damaged by moisture or other types of insects (e.g., carpenter ants) will not have this appearance.
Occasionally termites bore tiny holes through plaster or drywall, accompanied by bits of soil around the margin. Rippled or sunken traces behind wall coverings can also be indicative of termites tunneling underneath.
Oftentimes there will be no visible indication that the home is infested. Termites are cryptic creatures and infestations can go undetected for years, hidden behind walls, floor coverings, insulation, and other obstructions. Termite feeding and damage can even progress undetected in wood that is exposed because the outer surface is usually left intact.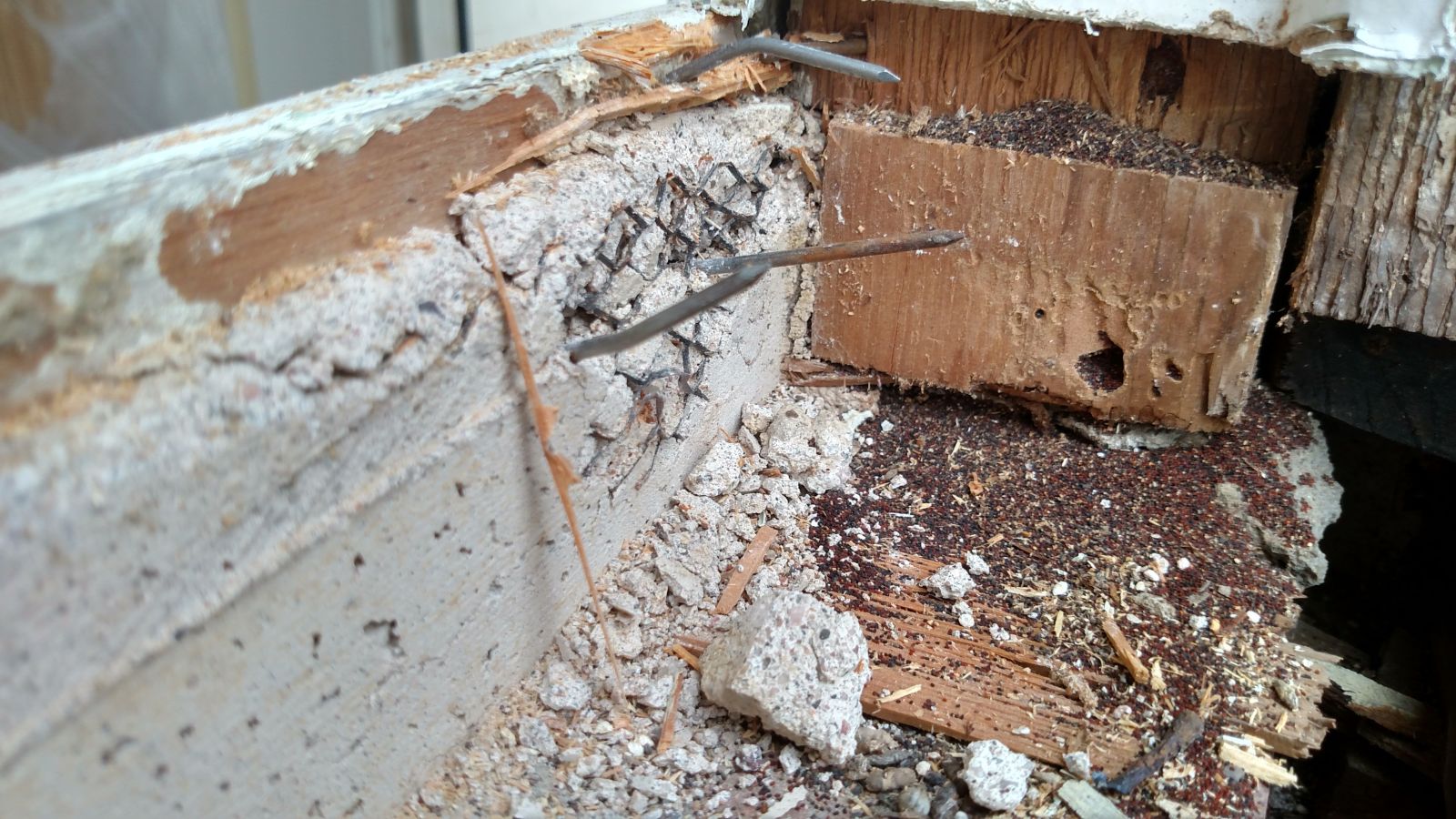 Riding your home of Termites requires special skills. A knowledge of building construction is needed to identify the critical areas where termites are likely to enter. Many of these potential points of entry are hidden and difficult to access. Termite control also utilizes specialized equipment such as masonry drills, pumps, large-capacity tanks, and soil treatment rods. A typical treatment may involve hundreds of gallons of a liquid pesticide, known as a termiticide, injected into the ground alongside the foundation, beneath concrete slabs, and within foundation walls.
In short, termite treatment is a job for professionals. A possible exception would be if a mailbox post, sandbox or other small wooden object not attached to the house was infested. "Do-it-yourself" products, sold to homeowners at retail stores or bought over the Internet, will seldom eradicate an existing termite problem.
Please call for a FREE Inspection. 480-833-1111
Contact Lady Bug Pest Control Specialists for a Free Home Inspection for Termites, Eco-Friendly Pest Control, Home Seal Service, Bed Bug Eco-Heat, and Rodent Control. We perform Complete Home Inspections. Lady Bug also will do a free inspection if you already are under contract with another company and take over your existing termite warranty policy.
Lady Bug Eco-Friendly Pest Control provides service Valley Wide including Mesa, Tempe, Scottsdale, Paradise Valley, Phoenix, Cave Creek, Care Free,Fountain Hills, Gilbert, Chandler, Queen Creek, San Tan, Sun City, Peoria, Buckeye, Avondale, Good Year, Glendale, Surprise, Apache Junction, Gold Canyon, Anthem, Ahwatukee, and El Mirage.

Free Termite Inspections